Customize PDF files
PDF is the most popular file format used for electronically distributed documents. It may be used for documents with any number of pages and for complex documents that contain a variety of fonts, graphics, colors, etc. PDF format ensures that your documents retain its formatting and look the same on any computer. With ReaSoft PDF Printer you can control the look of your PDF files virtually without any limits.
You can set the paper size
Enable full or partial font embedding
Set the initial PDF display properties (specify the initial view and page layout of PDFs, choose at which page to open the document, etc)
Automatically convert web links into PDF hyperlinks
Print PDF documents on your own letterheads
Add headers and footers with data, time, page numbers, etc.
Apply text and image watermarks to your PDF documents
Add hierarchical bookmarks to the PDF document pages
Identify your PDF documents (give each document a name, subject, specify the author and keywords)
Combine documents, drawings and rich media content into a single PDF document
Navigate PDF pages (add, delete, re-order pages)
Send your PDFs by e-mail
Optimize and compress your PDF files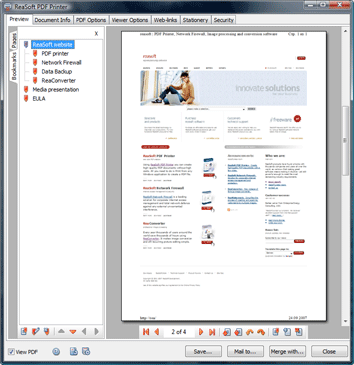 ( click on image to see larger picture )

Create PDF documents from any printable files

Combine text and graphics files into a single PDF

Control your PDF documents security

Customize PDF files

Download ReaSoft PDF Printer trial!
Please refer to our
support section
for description on all available support options and our contact information.