ReaCompressor 2.0
Images ready for the web in a SNAP!
For years people have been complaining about how hard it is to find software for what should be a simple job - compressing images in compact formats, ready for the web. While big software companies provide some 'nice' answers, the truth is even their tools have many drawbacks: You need to buy a much larger (and expensive) package of software to get the few features you need. Even then, the software treats the user like a child, providing ready-made settings, instead of allowing the user total control over the image. Industry professionals are raving about ReaCompressor and we are very proud to have worked closely with some of the best, in developing what has now entered the major league in image compression software - and is becoming one of our most popular products!

download

( 2.4Mb ) |
purchase $29.99
Key Features:
With the release of version 2.0, ReaCompressor has now become a major talking point among professionals around the world, offering a wealth of 'most requested' features such as:
| | | |
| --- | --- | --- |
| JPG region specific compression Multipage GIF/TIFF files support PNG and JP2 compression TWAIN devices support | | 400+ input files formats Image and Text watermarks support JPEG repair options Instant preview of web-ready output |
ReaCompressor interface: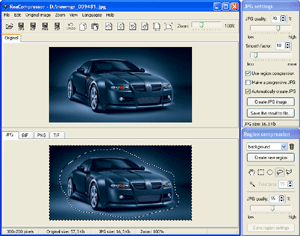 ( click on image to see larger picture )
System Requirements:
| | | |
| --- | --- | --- |
| | | Windows® XP, 2003 server, Vista, 2008 server, Windows 7, 8 |
Knowledge base related issues:
ReaSoft all-round image processing solution:
ReaConverter - high quality batch image converter with 400+ supported formats.