One of the keys to success in business is about being aware of the constantly growing demands of the world market. Therefore, it is very important to keep up to date with the current requirements, and manage businesses accordingly. Speaking about the document workflow, this is now about moving to a much more reliable way of presenting business documents - having them in PDF format.
PDF is the most popular platform-independent file format used for printing and e-mailing various documents, (invoices, tax records, forms, contracts, order receipts, etc.). It may be used for documents with any number of pages and for complex documents that contain a variety of fonts, graphics, colors, etc.
How can ReaSoft PDF Printer help your business?
ReaSoft Development offers a
complete desktop
and
server solution
for effective management of the internal and external document workflow in an organization by allowing to create high-quality and secure PDF documents for printing and electronic sharing.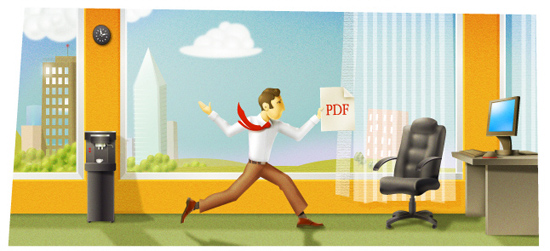 Impact on the internal document workflow: Regardless of what applications are being used by employees to create the original documents, ReaSoft PDF Printer can convert them to PDF format.

Helps to unify the document workflow
Eases exchange of data among employees
Facilitates access to information
Makes information storage more compact and reliable.

Effect on the external document workflow: PDF is a cross-platform format, so documents in this format are universally viewable across various operating systems.

Ensures accurate representation of the sent information
Enables adequate distribution and exchange of data
Helps to achieve more efficient and faster transfer of electronic documents.

Effect on maintaining the company standards related to document representation and security: ReaSoft PDF Printer allows to print PDF documents on a company's letterhead, add headers and footers with data, time, page numbers, etc.

Makes it easier to comply with companies' requirements related to document design and layout
Reduces the time spent by employees on document preparation.

ReaSoft PDF Printer can control access to PDF documents by enabling password protection and restricting printing, copying and editing.

Protects data from unauthorized use, viewing and editing
Secures documents from illegal reproduction and distribution.
If you have any questions, suggestions or comments, feel free to
contact us
.