Using ReaJPEG: Batch Process mode
With the ReaJPEG Batch Process mode you can convert a lot images at once. You should use this mode when you have a number of images to convert and you want to apply exactly the same image processings to all these images. Or you just want to do the mass convertion without any processings at all. Typical usage of Batch Process mode looks like this:
Open your images with "Add images" button or just drag-and-drop them from Windows Explorer.
(optional) Add image editing to the processings list.
(optional) Adjust JPEG format settings, particularly the compression quality.
Convert your images with "Start conversion" button.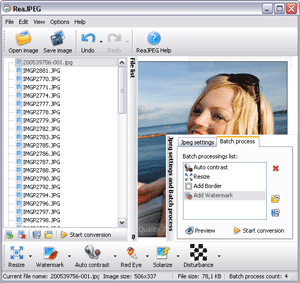 ( click on image to see larger picture )

ReaJPEG online help file

Download and try ReaJPEG for free!
[an error occurred while processing the directive]