Tracking HTTPS traffic
To capture and decode encrypted HTTPS traffic ReaSoft Network Firewall is implemented together with HTTPS proxy server. To use it, configure redirection secure HTTPS traffic from LAN to proxy port 4054. HTTPS proxy listens on port 4054 on all interfaces of the server, so traffic can be redirected to server's external interface (WAN), as well as local area network gateway interface. For a transparent proxying work (without any warnings about invalid certificates), you must import Certification Authorities ca.cer file from the installation folder \cert\cer\ for all LAN computers.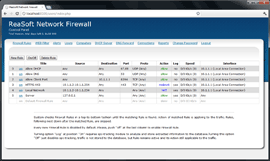 ( click on image to see larger picture )

ReaSoft Network Firewall features

Download and try ReaSoft Network Firewall for free!
We are ready and willing to help you realize all the power available to you with ReaSoft Network Firewall. Please refer to our
support section
for description on all available support options and our contact information.