Logging overview
Starting from the moment when it was installed, ReaSoft Network Firewall saves all information about events in the program to special log files. Log files are maintained for the ReaSoft Network Firewall engine and for events in the work of the program. ReaSoft Network Firewall engine logs store information about network connections established with the ReaSoft Network Firewall server. Event logs can be of two types: system logs and security logs. System logs store information about the work of the system. Security logs store information about system security events.
All event logs are stored in text file of the W3C format.
If necessary, you can use third-party software for analyzing these log files.


affordable and business-ready solutions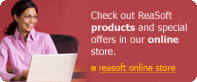 For fastest service you can purchase ReaSoft Network Firewall from our secure online store:
Online Store


ReaSoft Network Firewall additional info
Features
Screenshots
Technical support
Online help file
Download
Buy Now!
News-list:
product updates, new releases