Recovery system
ReaSoft Network Firewall allows you to back up the system configuration. The configuration is saved to a separate XML file that can be recovered in case of failures or damages. To ensure higher fault tolerance for the system, ReaSoft Network Firewall allows you to automatically back up the configuration according to schedule. In case the system fails, you can get the system running again within a short period of time.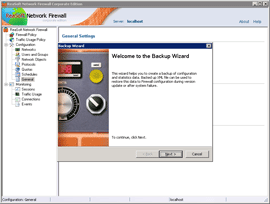 ( click on image to see larger picture )

ReaSoft Network Firewall features

Download and try ReaSoft Network Firewall for free!
We are ready and willing to help you realize all the power available to you with ReaSoft Network Firewall. Please refer to our
support section
for description on all available support options and our contact information.