Multi-Network support
ReaSoft Network Firewall allows you to configure your network based on logical objects of private (trusted) and public (untrusted) networks. It is possible to configure access policies for each network independent of the network type (private, public) and the parameters of security policies set for other networks. ReaSoft Network Firewall supports any number of IP addresses on one network interface. You can just split your network into logical subnets (for example, single out a perimeter network (DMZ)) and create the necessary security policies. To ensure higher security, network relationships are established between networks in addition to Firewall rules. To connect your local area network to the Internet via one IP address and to prevent access to the protected network, you should set the NAT (Network Address Translation) interaction type. To provide access between local area networks and in other cases, the "Route" interaction type is set.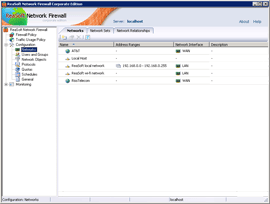 ( click on image to see larger picture )

ReaSoft Network Firewall features

Download and try ReaSoft Network Firewall for free!
We are ready and willing to help you realize all the power available to you with ReaSoft Network Firewall. Please refer to our
support section
for description on all available support options and our contact information.