Easy Firewall management
ReaSoft Network Firewall comes together with a specially designed control panel that makes the configuration process easier and allows you to avoid mistakes in configuration. For initial configuration, it is enough to specify the parameters of your network in the special Network Configuration Wizard. After the wizard finishes its work, your network will be protected against external attacks and also all LAN clients will have access to the specified services in the public network. Rules and objects are created with the help of simple and clear wizards that will not allow you to make mistakes during the configuration process. The set of predefined firewall rules ensures that the server will be running in case you make mistakes while creating security policies. ReaSoft Network Firewall supports remote control from any computer on your local area network.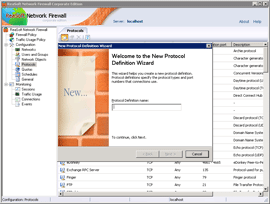 ( click on image to see larger picture )

ReaSoft Network Firewall features

Download and try ReaSoft Network Firewall for free!
We are ready and willing to help you realize all the power available to you with ReaSoft Network Firewall. Please refer to our
support section
for description on all available support options and our contact information.