Events and logs management
To allow you to completely control the work of ReaSoft Network Firewall, it has its own event system that logs system events and security events. It is recommended to look through ReaSoft Network Firewall events regularly to fix errors and prevent failures. All events and firewall information about is saved to text files in the standard w3c format. You can analyze these files in third-party software and get detailed statistics.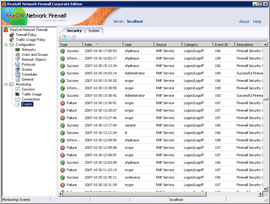 ( click on image to see larger picture )

ReaSoft Network Firewall features

Download and try ReaSoft Network Firewall for free!
We are ready and willing to help you realize all the power available to you with ReaSoft Network Firewall. Please refer to our
support section
for description on all available support options and our contact information.