How it works
ReaSoft Network Drive is a valuable software for those who access network drives in a computer network, ranging from small home networks to medium-sized corporate networks. From now onwards, you can easily connect one or several local folders to the network drive.
1. Installing Network Drive files:
Installing ReaSoft Network Drive is a very simple and quickly process. The Setup Wizard takes you through a few steps where all you need to do is to get familiar with our licence agreement and select the folder where to install the drive. When the setup is over, you can choose whether to launch ReaSoft Network Drive right away or some time later. This can be any time, as the icon locates in the Start menu.
2. Configuring ReaSoft Network Drive:
After installation is complete, you should configure ReaSoft Network Drive. Firstly, create the necessary type of disk by using function "Add new disk" on the toolbar. Choose a storage type for the new virtual disk. There are three types available as the requirements may vary: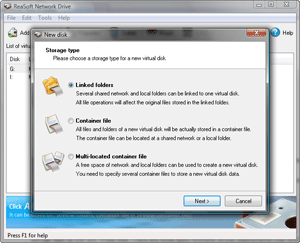 ( click on image to see larger picture )
Linked folders:
you should specify several local or network folders
Container file:
you should specify the full path to the random non-existent file to create the storage for the new drive. Encryption and compression is available for this type.
Multi-located container file:
Specify the path to some random non-existent files to create a large container for the drive. The difference between container file and multi-located file is that multi-located container file is physically divided into subfiles which can be located in different local or network folder.
3. The last step is to map the disks when their configuration is complete. They can be connected either manually or automatically:
To map them manually use the "Mount" button on the toolbar. Automatic connection is possible only in case the option "Connect at Windows startup" is activated in the settings. If necessary, the drive settings may be changes by using "Properties" function on the toolbar. NOTE: ReaSoft Network Drive automatically loads when user logins. The disks are functioning only when the program is active.

Full features list

Download and try ReaSoft Network Drive for free!
We are ready and willing to help you realize all the power available to you with ReaSoft Network Drive. Please refer to our
support section
for description on all available support options and our contact information.