ReaSoft PDF Printer Server Edition 3.9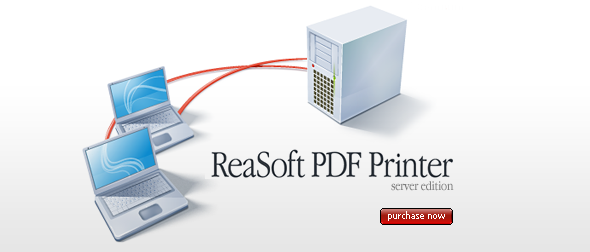 Proven PDF solution for server environment
Specifically designed with server-side processing in mind, ReaSoft PDF Printer enables users to convert to PDF on the fly from any workstation in the network. ReaSoft PDF Printer Server Edition is a server-based version of our PDF printer intended for use in a multi-user server environment. This means that once installed on a server, it can be freely accessed by all users of the network. The major advantage is that all users get all capabilities of ReaSoft PDF Printer Standard simply by being a part of the network, while the control over the printer settings is handled by administrators. Server edition is a proven solution for enabling reliably PDF creation to any number of users in a corporate network.

Server Edition Features:
Efficient server-side PDF creation
Any user can create high-quality and secure PDF documents from any workstation in the network without having to install ReaSoft PDF Printer.
Centralized installation and updates
Once installed on a server, ReaSoft PDF Printer works as a network shared printer. Installation and updates are handled by administrators. No 3rd party utilities, such as GhostScript, are required.
Users and groups administration
Administrators keep track of existing and added users. Users can be arranged to groups for better convenience. The custom settings can be assigned to groups as well as to individual users.
Compatible with Citrix&reg and Windows Terminal Services
ReaSoft PDF Printer Server Edition is fully compatible with Windows Terminal Services and Citrix Metaframe environments.

How it works?

Download ReaSoft PDF Printer Server Edition
System Requirements:
| | | |
| --- | --- | --- |
| | | Windows® 2000, XP, 2003 server, Vista, 2008 server, 7, 8 |
Documentation and support:
We are ready and willing to help you realize all the power available to you with ReaSoft PDF Printer: