Network DLP
Besides regular firewall functions, ReaSoft Network Firewall is noted for elements of Data in Motion system. Built-in DLP detects and prevents leakage of confidential information through e-mail, web-mail, ICQ, MSN, Internet communities and other similar channels. All HTTP and HTPS POST queries, communications via instant messengers, social networks or e-mails with attachments are decoded by the program and saved for checking.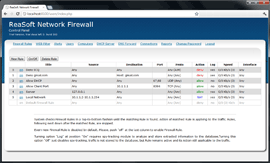 ( click on image to see larger picture )

ReaSoft Network Firewall features

Download and try ReaSoft Network Firewall for free!
We are ready and willing to help you realize all the power available to you with ReaSoft Network Firewall. Please refer to our
support section
for description on all available support options and our contact information.