Servers publishing (Mapping)
The Server Publishing mechanism makes it possible to access servers in the private or perimeter (DMZ) network of the company, such as web servers, mail servers, data servers, and to ensure safe protection against external attacks at the same time. ReaSoft Network Firewall runs as a published server and thus provides an additional protection level. Firewall Redirect Rules are used to publish servers. ReaSoft Network Firewall also allows you to redirect connections to other IP addresses or to other TCP/UDP ports. This technology is also known as Mapping.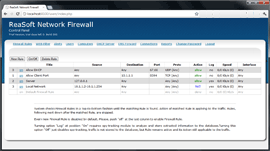 ( click on image to see larger picture )

ReaSoft Network Firewall features

Download and try ReaSoft Network Firewall for free!
We are ready and willing to help you realize all the power available to you with ReaSoft Network Firewall. Please refer to our
support section
for description on all available support options and our contact information.