Firewall protection
ReaSoft Network Firewall filters packets on the network level. Each packet going through the server is checked for compliance with access policies. Only packets from allowed connections get into the network. If there is a blocking rule set for a connection, the packet will be blocked. By default, connections that have no access rules specified for them are also blocked. Changes in the access policy are applied right when they are made. ReaSoft Network Firewall supports the Stateful Inspection (ACC) technology, which allows you to increase the protection against unauthorized access to the company's network. The work of the Firewall is based on chains of rules and allows you to configure security policies in the most simple and clear way.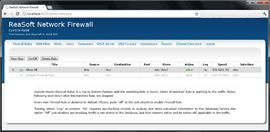 ( click on image to see larger picture )

ReaSoft Network Firewall features

Download and try ReaSoft Network Firewall for free!
We are ready and willing to help you realize all the power available to you with ReaSoft Network Firewall. Please refer to our
support section
for description on all available support options and our contact information.