Powerful NAT (Network Address Translation)
A specially developed engine supporting the NAT technology is used to provide secure access to the Internet and any other networks. The NAT (Network Address Translation) mechanism allows you to translate addresses from private networks into one address in a public network when private network clients access the public network. The NAT technology allows you to limit direct access to data in your network. Thus, all attacks from the public network are directed to a safely protected ReaSoft Network Firewall server, while LAN clients remain unavailable for malicious access. The NAT mechanism implemented in the ReaSoft Network Firewall engine works independently of the client configuration and does not require the installation of some special software. More then two years proved the high security and performance of the NAT technology engine developed for ReaSoft Network Firewall. The ReaSoft Network Firewall engine allows clients to work correctly via the FTP protocol in both passive and active modes and in all network relationship modes (NAT or Route).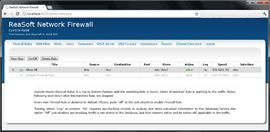 ( click on image to see larger picture )

ReaSoft Network Firewall features

Download and try ReaSoft Network Firewall for free!
We are ready and willing to help you realize all the power available to you with ReaSoft Network Firewall. Please refer to our
support section
for description on all available support options and our contact information.