Network Objects overview
Network Objects define all possible entities in networks. Firewall Policy rules, Network rules and Traffic usage rules are based on Network Objects.


affordable and business-ready solutions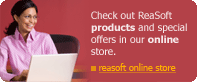 For fastest service you can purchase ReaSoft Network Firewall from our secure online store:
Online Store


ReaSoft Network Firewall additional info
Features
Screenshots
Technical support
Online help file
Download
Buy Now!
News-list:
product updates, new releases