Private Networks
Private Networks define subnets that are protected. A Private Network is defined by the NIC the network is connected to and the IP addresses ranges. Private Networks can be used as sources and destinations in any rules. If no NIC is specified for a Private Network, the network is considered as non-existing and is not taken into account in rules. Private Network should be used to define your local subnets, Perimeter Networks (aka DMZ), connected via VPN or Dialup networks.


affordable and business-ready solutions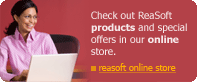 For fastest service you can purchase ReaSoft Network Firewall from our secure online store:
Online Store


ReaSoft Network Firewall additional info
Features
Screenshots
Technical support
Online help file
Download
Buy Now!
News-list:
product updates, new releases